11/11/2013
How many bismuth vanadates do you know?
The people who work with architectural coatings in the exteriors know very well and appreciate the bismuth vanadate (BV). An inorganic pigment with extremely high performances, with great washing resistance and weathering fastness, that allows colour experts to feel confident in many situations.
By now a standard for all of the top quality tinting systems, the BV is yet mainly used in its greenish yellow version (bright yellow).
How many people could try the BV in its orange and reddish yellow versions?
Very precious in making orange-shaded colours, these BVs are used whenever the light and weathering fastness (especially in pastel shades or in plaster tinting) is a must.
For this reason, these BVs are amongst the top-of-the-line EuroColori's products. Highly concentrated pigment dispersions in aqueous solution, without binders, no-VOC and APEO-free, suitable for all the water based coating systems.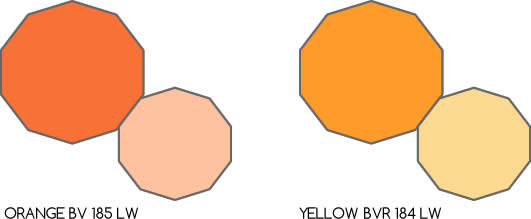 Available both for tinting systems (automatic dispensers) and gravimetric dosage:
Bismuth Orange BV 185 LW: colourant based on P.O. 85, cutting-edge modified BV, orange coloured with very clear shade and high tinting strenght;
Bismuth Yellow BVR 184 LW: colourant based on P.Y. 184, cutting-edge modified BV, reddish shade.